Deal Or No Deal The Money Ladder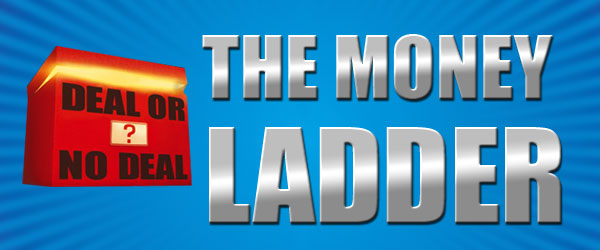 Deal or No Deal The Money Ladder is a multiplayer slot game that allows roomies to play against one another to win a share of the Community Jackpot! This is a 5-reel, 20-line slot game where you can get points if you match 3,4 or 5 point values in a row on an enabled line. The more points you receive throughout the game the higher you will climb on the leaderboard!
The community boxes will be revealed every 3-5 minutes and players will have until the boxes are activated to get as many points as possible. When the clock reaches zero (watch out for the 10 second warning folks!) players who are lucky enough to make the leaderboard will split the community jackpot that is determined by the coloured question marks revealed from 3 boxes!!
Overall RTP: 95%
Progressive Jackpot: No
Min Stake: £/€0.02
Max Stake:£/€0.40
Feature Game: No
Free Spins: No