Rainbow Riches Bingo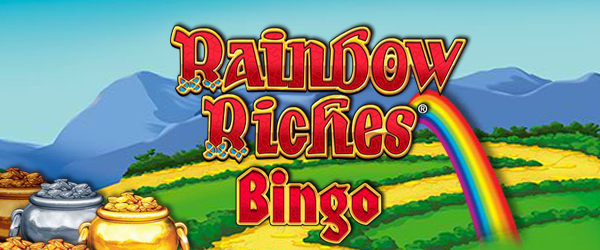 It's finally here roomies! We are delighted to welcome you to our magical Rainbow Riches Bingo Room where lots of Irish luck will get you those big bingo cash wins. Meet the mischievous lucky leprechaun who dances merrily along to reach the end of the rainbow to find the Gold Pot Prize!
There are up to a massive 4 prizes to be won in each bingo game - Clover, House, a Rainbow Riches Jackpot and a Wishing Well prize. The Rainbow Riches Jackpot Prize features our cheeky friend the leprechaun who moves up to 2 steps on a rainbow at the end of the game. While travelling along the rainbow the leprechaun can find 3 prize pots displayed on different steps of the rainbow: Bronze 20th step, Silver 40th step and Gold 100th step! To win a Rainbow Riches Jackpot prize you must have bought tickets in a game where the leprechaun finds one of the prize pots on the rainbow.
Rainbow Riches Bingo also features a Wishing Well Bonus, where players can collect gold coins to win the cash prize. Each time you buy a minimum of 5 tickets, you activate the Wishing Well and the magic number which you have already selected at the start of the game. If your magic number matches one of the numbers called in the game, then a gold coin is added to your wishing well. In order to win the Wishing Well prize you must collect a total of 100 gold coins.
GL roomies and enjoy our most popular bingo game to date!